August 17th is National Thiftshop Day!
I'm back to finding strange holidays and I guess National Thiftshop Day is a perfect way to start 😉
"Thriftshop" is an old term for stores that sell items deeply discounted merchandise.  It's not always the highest quality, but the price is right.  It's all about being crafty and creative on a budget!
You know these stores better today as Goodwill and dollar stores.  I personally love both of these types of stores since you can find great items that are inexpensive as well as gently used or even new items from department stores.  The shelves are overflowing with candlestick holders, mix-n-match plates, serving dishes, and linens.
How about making your own cupcake and cake stands? Very easy to do and a trip to your local thrift shop is all that is needed!
Repurposed Cake Stand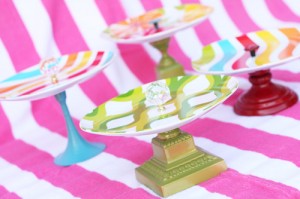 Thank you to Crafty Nest where I found easy instructions on how to make your own repurposed dessert stands.
BEFORE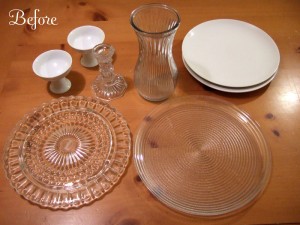 Supplies & Tools
plate
vase, pedestal bowl, candlestick, etc. (look for a wide base and a flat top)
epoxy (I used Elmer's epoxy cement)
craft sticks or Q-tips with the cotton removed from the ends
scrap cardboard or paper plate
paper towel or rag
nail polish remover
1. Clean and dry both dishes well. Find the center of the plate. Mark the spot if you need to. Mix the epoxy according to the package directions, then apply a thin coat to the top of your base using a craft stick. Don't touch the epoxy with your bare hands.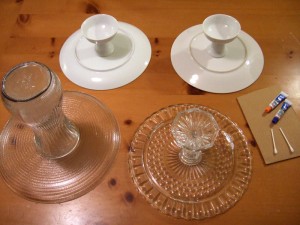 2. Turn the base upside down, and place in the center of the bottom of the plate. Work quickly but carefully because the epoxy dries fast. While the glue is still tacky, remove any excess with a paper towel and nail polish remover.
3. Place a heavy book on top to hold the base down. Let dry overnight. These cake stands are not dishwasher safe, so gently wash them by hand.
AFTER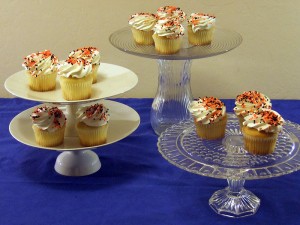 Another idea…
How about making a cute "cupcake" gift with washcloths?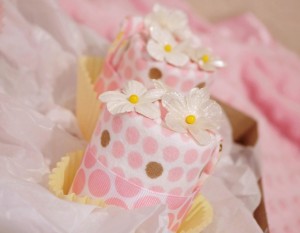 You can find a wide array of colors and patterns. Add some matching ribbon and place into a cupcake liner to make a cute cupcake gift.  You can even get creative with the presentation and place it into a small single cupcake box that you can find at your local craft stores in the baking aisle.
Perfect gift for a bridal shower, baby shower, birthday or just because.  You can even use a baby onesie instead of a washcloth for the mom-to-be! My sister made one for her gift at my baby shower. It was one of my favorite gifts that day 😉  …she is so creative!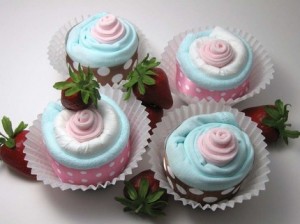 And this is just because … it made me smile 😉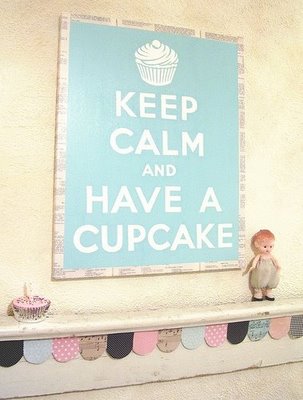 I think I may need to find this sign and hang it in my office!
Until tomorrow, have a sweet day!