My favorite part of being a mommy is the fun and creative treats I can make for my daughter's holiday parties at pre-school. Sometimes I feel I go a little overboard for some holidays since she is only 3 but I get excited to make them with her now. This year I found a few ideas from Pinterest and took a little piece from each to create my own St. Patty's Day treat bags for her party on Monday.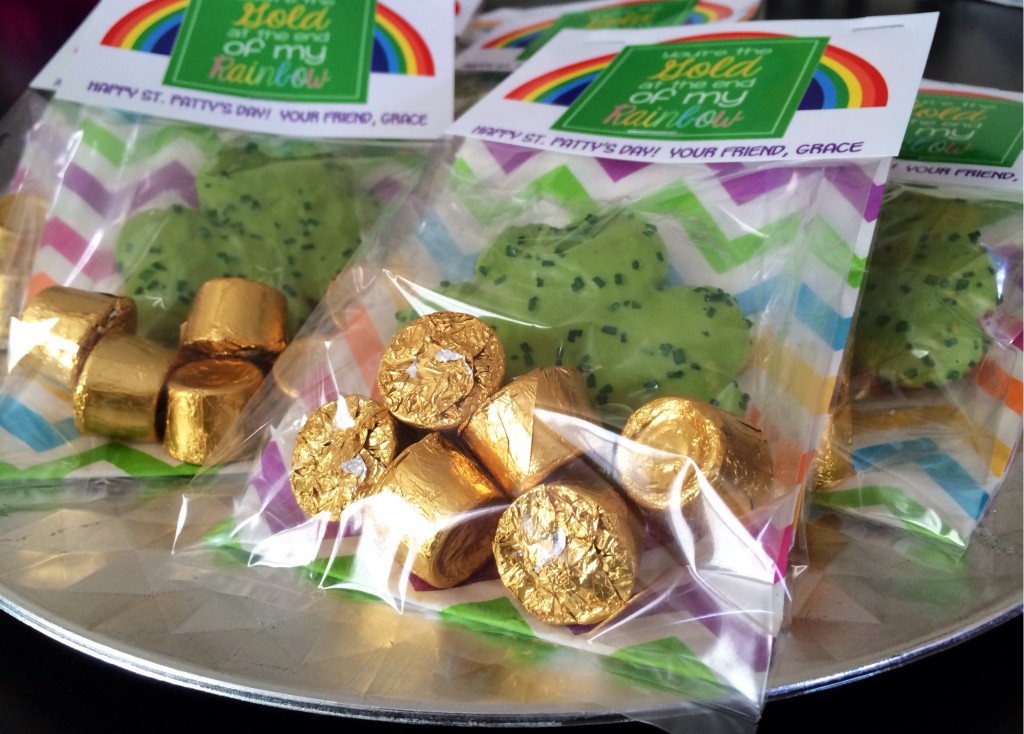 This treat bag is easy to make and only takes a few dollars to make enough for your child's class. Plus, it's fun to make them with your little one since it's only a few simply steps that they can help you do!
WHAT YOU'LL NEED:
Wilton Party Cello Bags (4″x9.5″)
Bag of Rolos
Rainbow or Chevron Napkins
Little Debbie Shamrock Cookies
Header Tag (FREE Printables by She's Kinda Crafty)
Stapler
Scissors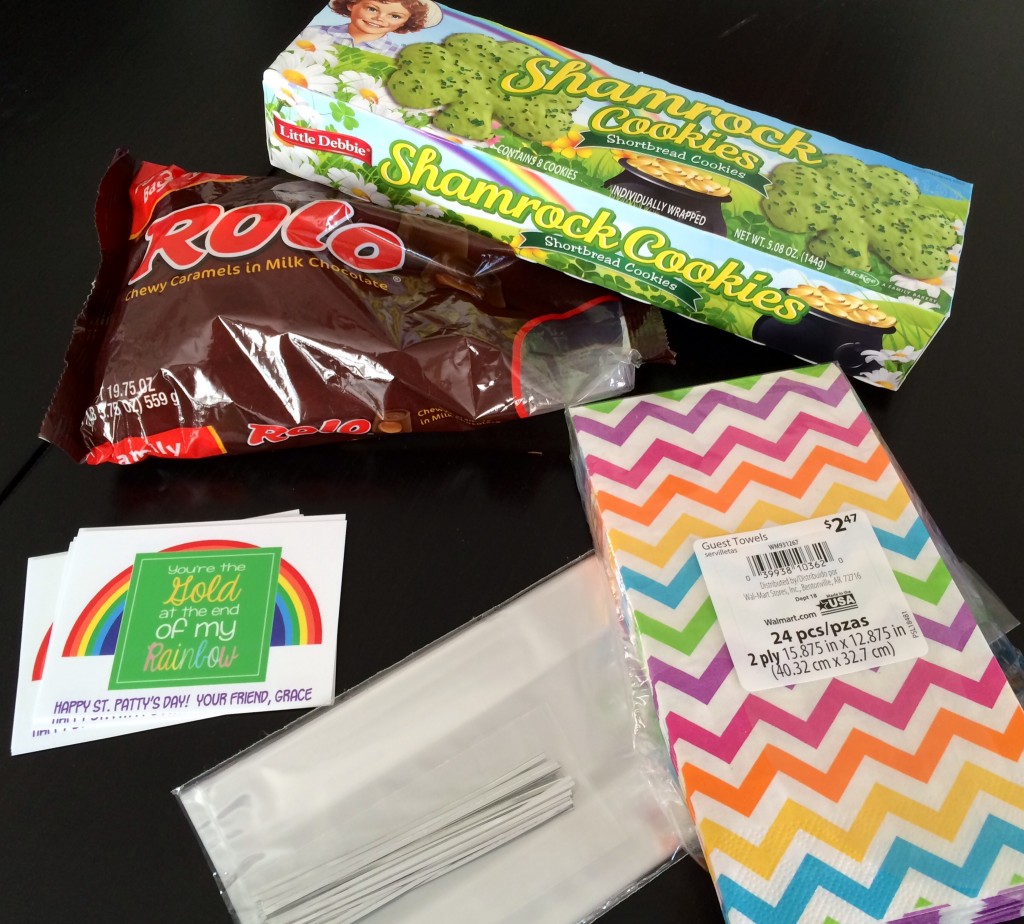 Like I said before, my idea came from a few pins from my St. Patty's Day Pinterest board I started collecting last month and I made mine a little different because of the supplies I found. All of the supplies I needed came from Walmart.
First, gather your supplies. Next, add the napkin to the inside of the bag to create a background. I chose a bright and colorful rainbow chevron napkin that fits perfectly in the 4″ wide clear cello bags.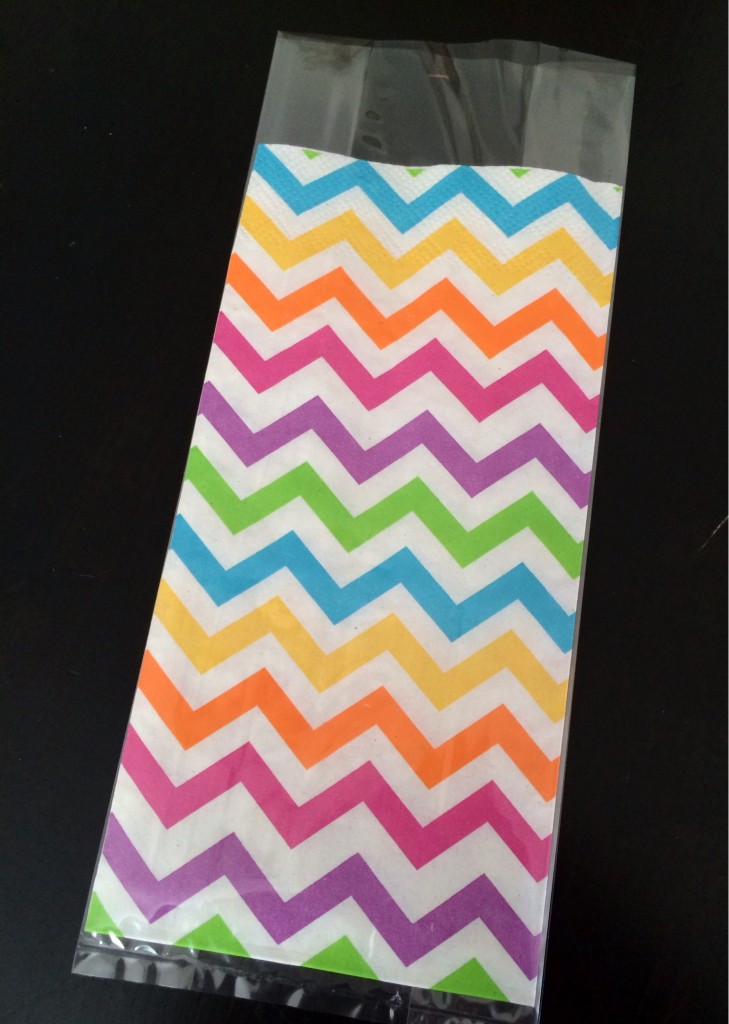 Next, add your cookie. The Little Debbie shortbread cookies are individually wrapped and look like green shamrocks that are perfect for this treat bag. I like the fact that they are wrapped so the cookie will not make a mess on the napkin background.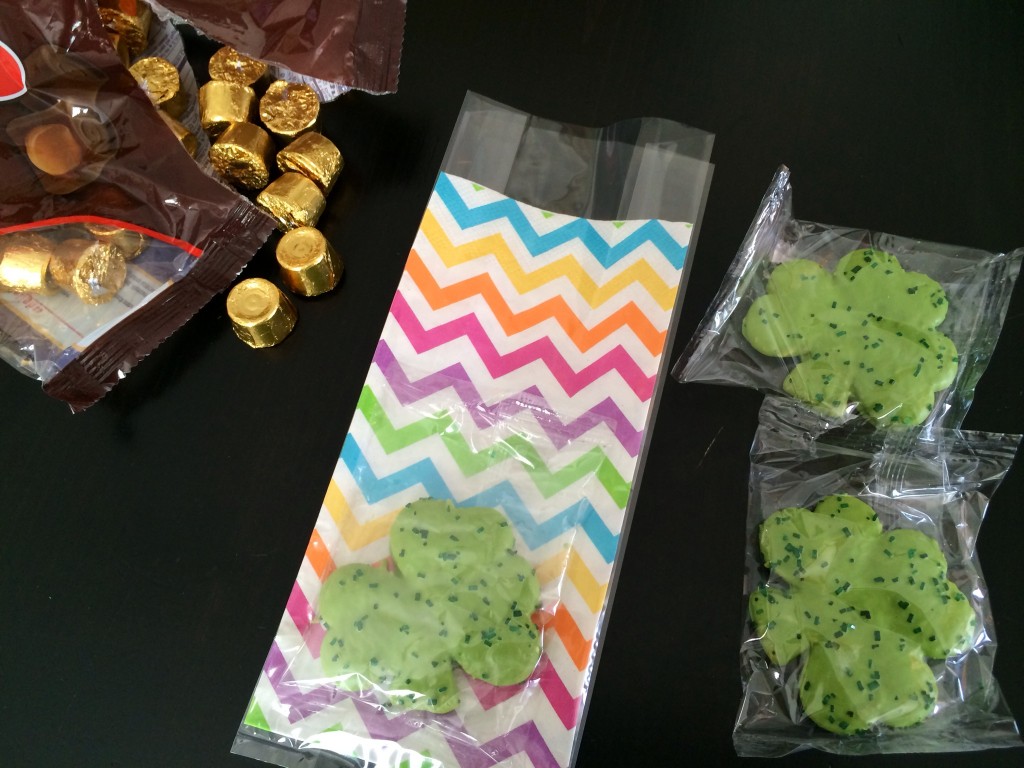 After you add the cookie, add some Rolos so they look like "gold" at the end of the rainbow (the rainbow napkin)!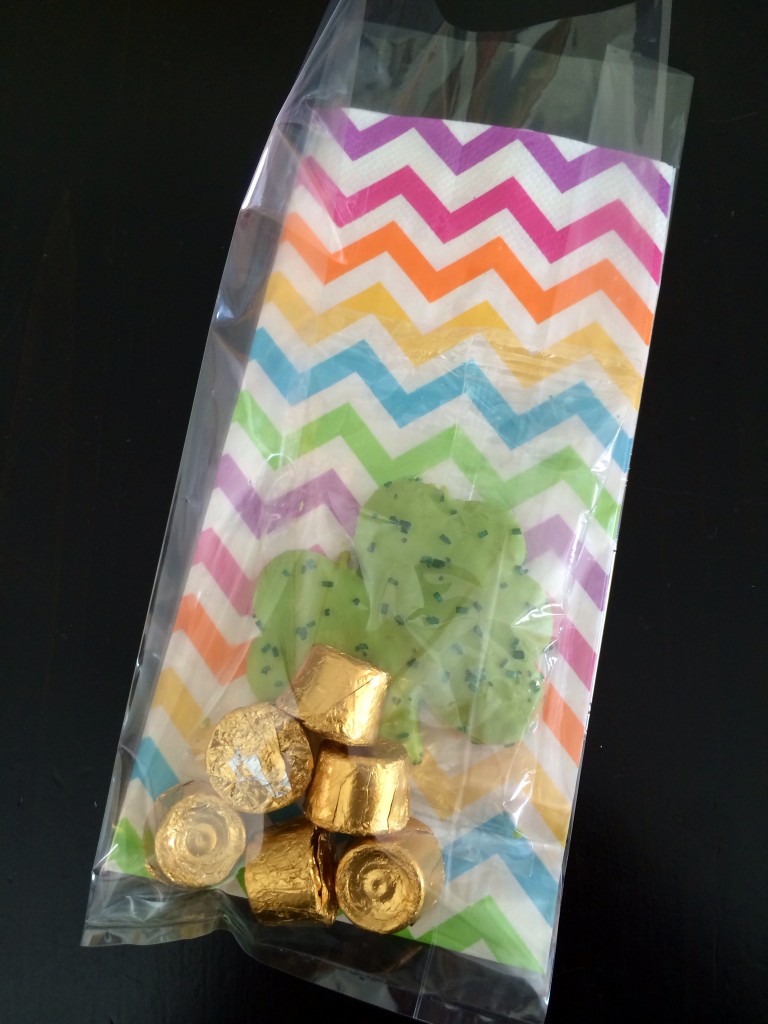 Finally, add your treat bag header card. I simply just folded over the treat bag and stapled it to secure it to the cello bag. I found the "You're The GOLD at the end of my RAINBOW" FREE PDF printable at She's Kinda Crafty and put it in Photoshop to add my little touches to it. I put a rainbow behind the image plus added a special message from my daughter to her classmates. The card measures 4″ wide by 3″ tall so you can use glossy 4″x6″ photo paper to create 2 on a sheet.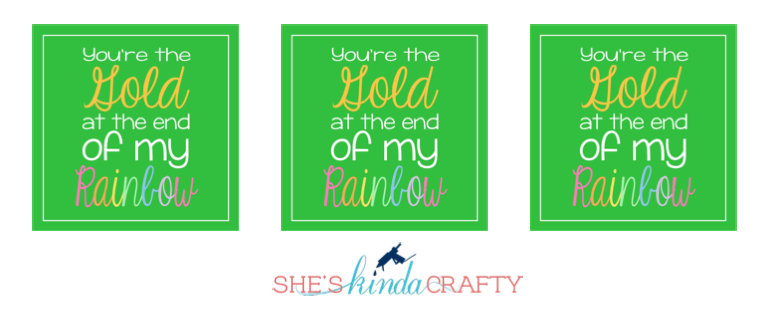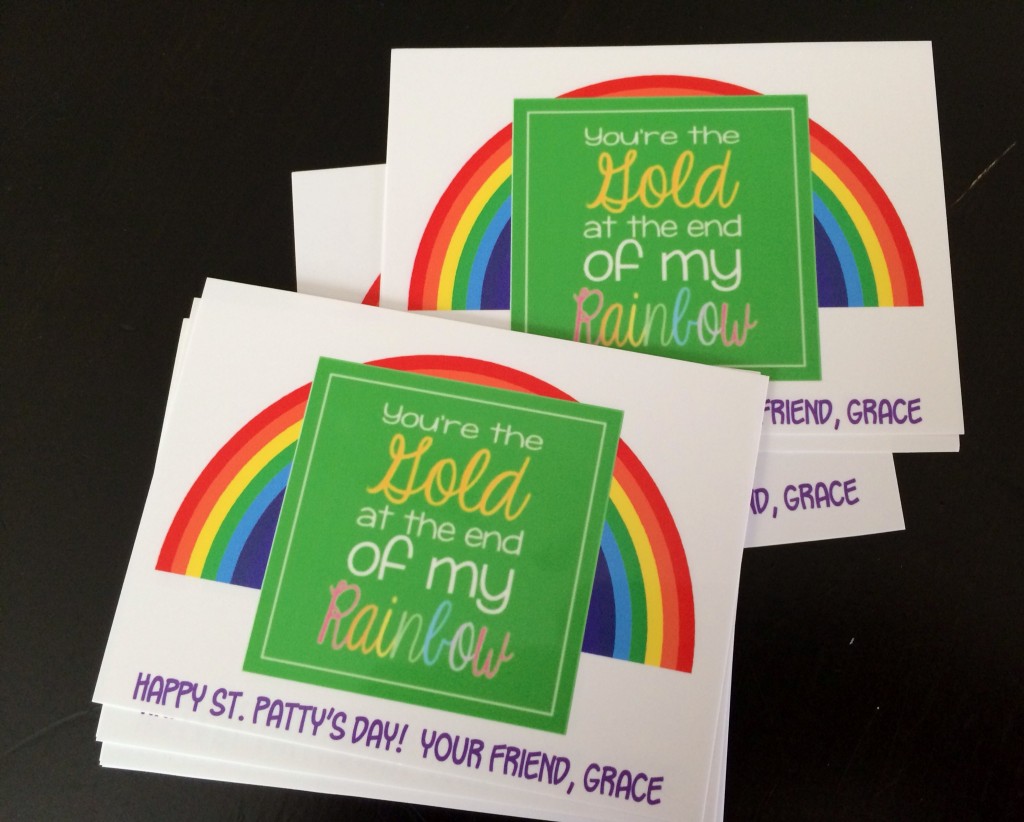 And here's the final treat bags! So cute and very easy to put together. My daughter is so excited to hand these out to her classmates tomorrow!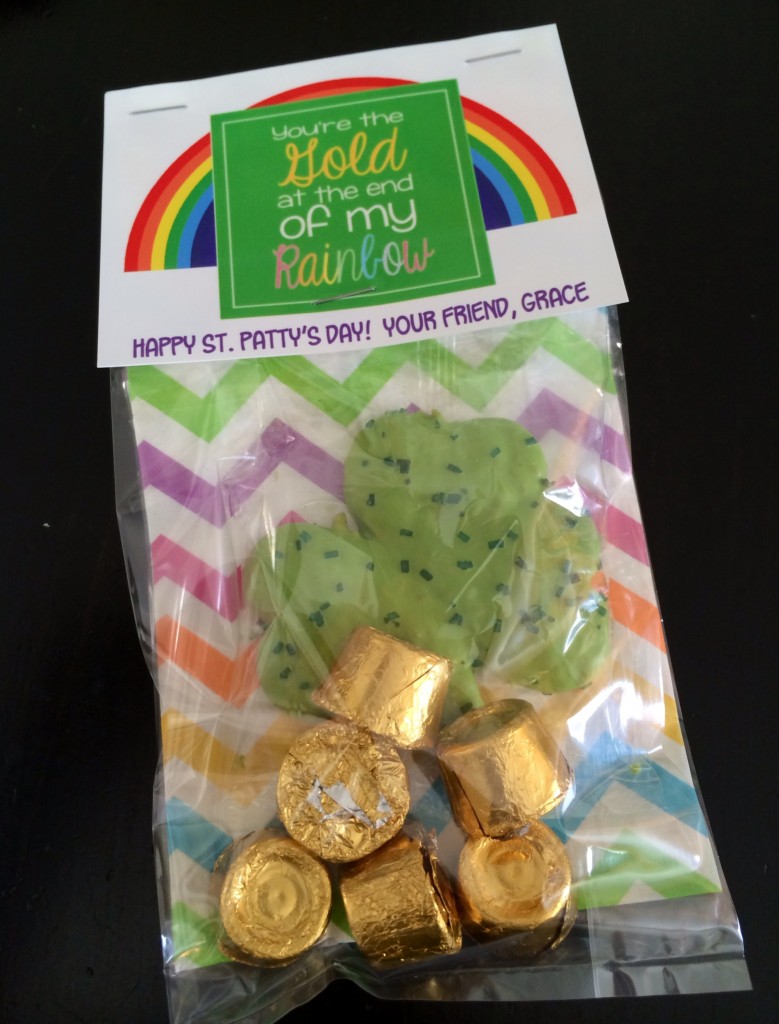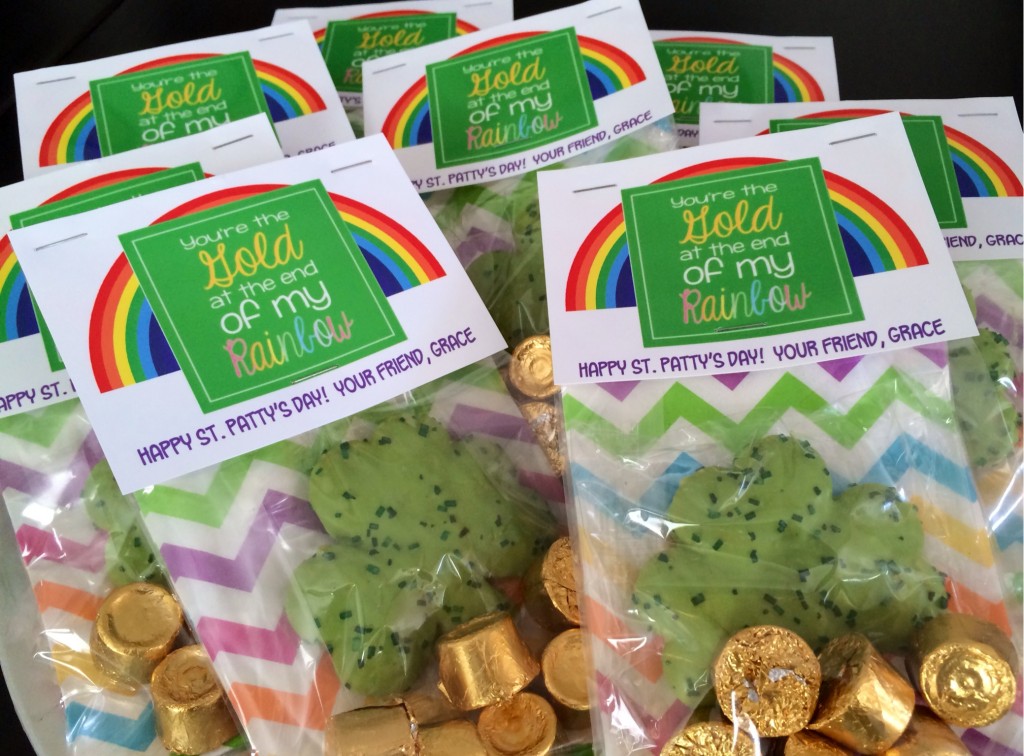 If you are looking for another easy idea for St. Patty's Day treats only using BlowPop lollipops and some gold coins, take a look at this "Over the Rainbow" post from last year.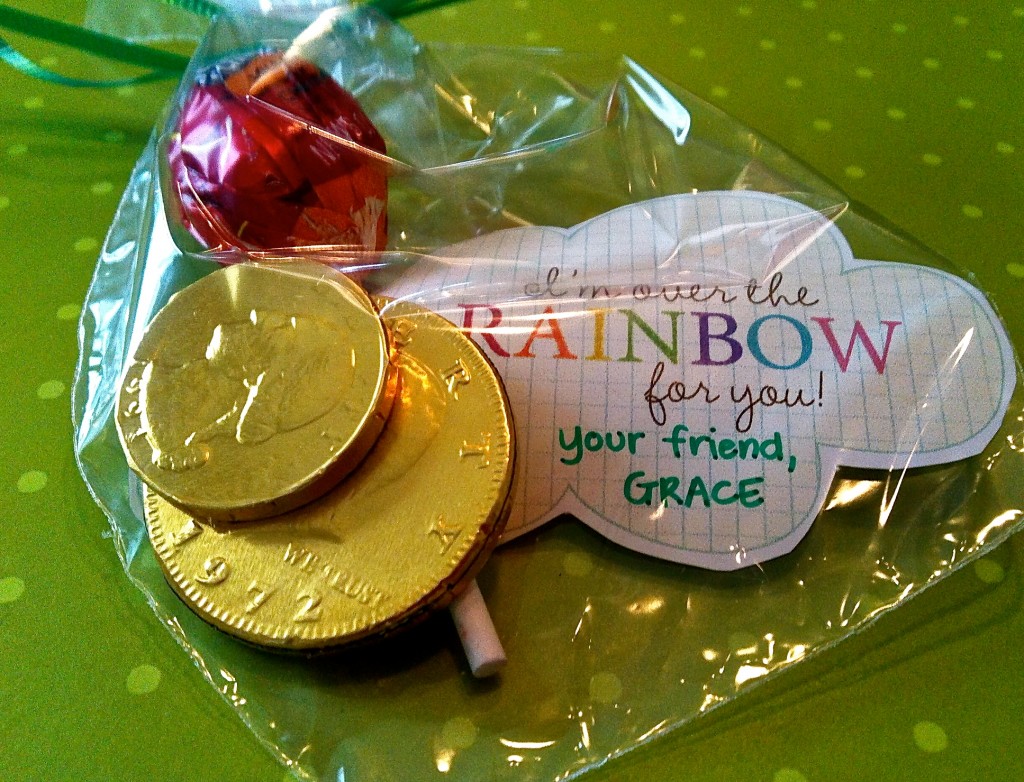 Until next time, have a SWEET day! Bonnie