I recently received my free Atkins Quick Start Kit in the mail and I was very surprised by what was sent as a free sample. It is 2 days after Halloween and since I got my candy fix from secretly taking some of my daughter's candy, it's time to start eating better and exercising before the holidays are here.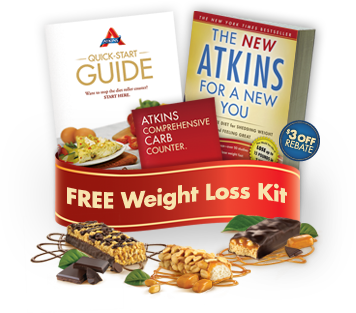 Like most free samples, I expected a small sample of one of their products but instead received the following:
Atkins Quick-Start Guide with meal plans
Pocket Carb Counter/Acceptable Foods List
Atkins Chef Recipes
3 Atkins Bars: (1) Atkins Day Break Bar and (2) Atkins Advantage Bars
Coupons for Atkins products
Details about the new book, The New Atkins for a New You
This is what came in my kit…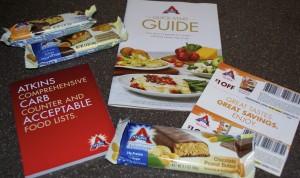 To request your Atkins Quick-Start Kit with free samples, click here to sign up.
It was really easy to do and my samples arrived super fast. My favorite Atkins bar was the Day Break Chocolate Chip Crisp Bar which is the perfect "Grab 'n Go" breakfast or mid-morning snack. The two Advantage bars are great as a meal or snack any time of day. The two I received were Caramel Chocolate Peanut Nougat and Chocolate Peanut Butter bars.
Another great addition to the kit is the Atkins Carb Counter and Acceptable Food Lists booklet. I first went to the alcoholic beverages to check on beer and wine….

What is also nice is that they have a list of fast food and restaurant chains and options so you can carry the little booklet with you when you dine out.
I tried the Atkins diet years ago before they had these snack bars and still did well with losing a few pounds. Atkins states that you can lose up to 15 pounds in 2 weeks. I am going to continue to use the handy carb counting booklet as well as the coupons to buy more of the snack bars. Also, a nice walk with the baby in the park will help this afternoon.
[From the Atkins website]
Disclaimer: The instructions and advice presented on this site are in no way intended as medical advice or as a substitute for medical counseling. The information should be used in conjunction with the guidance and care of your physician. Consult your physician before beginning this program as you would any weight-loss or weight-maintenance program. Your physician should be aware of all medical conditions that you may have, as well as any medication and supplements you are taking. Those of you on diuretics or diabetes medication should proceed only under a doctor's supervision. As with any plan, the weight-loss phases of this nutritional plan should not be used by patients on dialysis or by pregnant or nursing women. As with any weight loss plan, we recommend that anyone under the age of 18 follows the program under the guidance of their physician.