Disclosure: I got this product as part of an advertorial.
ABOUT THE COMPANY:
California Kitchenware offers premium kitchen tools that enhance the joy of cooking.  A Santa Barbara company, CKW designs innovative products that meet the needs of home cooks, professional chefs and everyone in between.  Whether you are cooking for two or making drinks for a dinner party, CKW has you covered!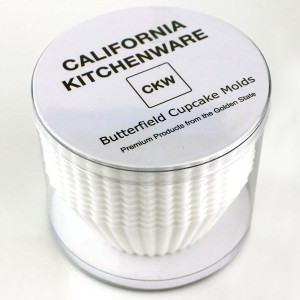 REVIEW:
I had the opportunity to test and review the California Kitchenware White Butterfield Silicone Cupcake Molds. The set of 12 non-stick baking cups come in white. There is no need for a muffin pan as you can place them directly on a cookie sheet when baking. The silicone molds are freezer, microwave, oven, and dishwasher safe.
I've seen silicone baking molds for quite some time but I never tried them until now. California Kitchenware's Butterfield molds are perfect for any type of muffin, cupcake, mini cheesecake, etc. The molds come in a convenient package and they fit easily into your cupcake pans or you can even use them right on a cookie sheet if you do not have a cupcake pan. I tried the silicone molds with a batch of blueberry muffins this weekend. I put them in my cupcake pan, and filled with batter. Super easy! The muffins cooked evenly. I had to let the muffins cool down before removing them from the silicone molds since muffins do have a tendency to fall apart a little even with traditional muffin liners. Cleaning was easy too! I placed the muffins on a serving plate for breakfast and let the molds soak in hot, soapy water in the sink for a few minutes. I highly recommend these to anyone looking for an easy alternative to traditional cupcake liners. I wish I had bought another set of 12 though!

ABOUT THE PRODUCT:
California Kitchenware White Butterfield Silicone Cupcake Molds are packaged in a tube of 12 cups, making a great gift for friends or family. The Pristine white silicone cups are made to be used in the oven up to 500 degrees F, but can also be used in the freezer or microwave. The food-grade, non-stick silicone is fun for kids but uncompromising in performance. The 2″x3″x1-1/2″ cups fit in the spaces of standard metal or glass muffin pans, or they can be placed individually on a flat cookie sheet or jelly-roll pan. CKW Butterfield cupcake molds can be used to bake breakfast muffins, birthday cupcakes, cheesecakes, individual brownies, and more. The flexible cups ensure easy removal of baked goods or molded gelatins. Stackable for storage, the set of 12 baking cups can be cleaned by hand or in the top rack of the dishwasher. All CKW products include a fact about California, see the bottom of the packaged tube to learn about "Butterfield."
OTHER PRODUCTS:
California Kitchenware has other great silicone baking products but one of my favorites are the colorful silicone baking cups. They are just like the Butterfield white except they come in 3 different fun colors.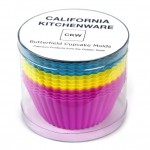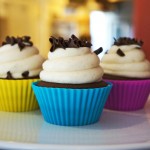 I received one or more of the products mentioned above for free using Tomoson.com. Regardless, I only recommend products or services I use personally and believe will be good for my readers.