July 27th is Take Your Pants For A Walk Day!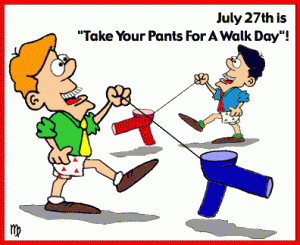 Take Your Pants for a Walk Day is a great day to get some exercise.  This special day is well noted on the internet and calendar websites.  To be honest, I have never heard of the expression so this is a new holiday for me.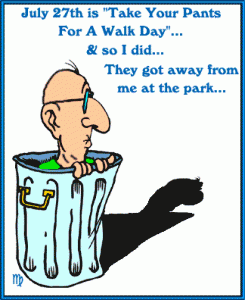 Its an easy day to celebrate. Simply go for a walk.  Give your pants some exercise!  While celebrating this holiday by walking, you will not have time to sit down and enjoy a nice lunch or even some dessert…so maybe you can bring it with you.
What's better than food on a stick!  
We can start with some good old fried foods…
Fried Mash Potatoes on a Stick
French Fries on a Stick
Hot Dog Wrapped in French Fries on a Stick
and the most strange…French Fries with Bacon on a Stick
So how about dessert?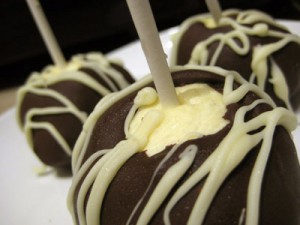 Thanks to Good Eats 'n Sweet Treats for sharing the recipe for these amazing cheesecake pops! They have chocolate dipped or cinnamon sugar dipped cake pops. I'll have to try this for the next time my family is over for Sunday dinner.
CakeShooters???
My favorite dessert are these CakeShooters created by Sprinkles Custom Cakes.   They were featured in an article in Orlando Magazine – see below for the inspiration.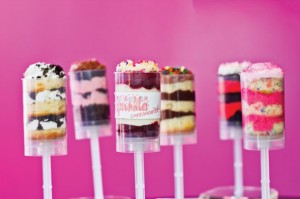 "Larry Bach, owner of Sprinkles Custom Cakes in Winter Park, has combined the cupcake craze and mini-dessert mania into a push pop treat made of alternating layers of cake and filling, then topped with frosting and sprinkles.
Bach got the idea for his Sprinkles CakeShooter at a confectioners' convention when he spied plastic push-up containers designed to hold Italian gelato. "It's a very easy thing to put cake in there," he says, "and kids could eat them without a fork or spoon or even a napkin"—a real plus for his business because he'd recently lost several regular orders after some local schools banned messy cupcakes for birthday celebrations. Bach plans to patent his creation, which already has drawn a celebrity following. People magazine reported that actress Tori Spelling ordered pink-and-white CakeShooters for her daughter Stella's second birthday celebration in California.
CakeShooters come in flavors such as yellow raspberry swirl, OMG (raspberry swirl and chocolate buttercream), Sprinkles Signature (vanilla cream and white icing), piña colada, chocolate and vanilla. Vegan and gluten-free options are available, and Bach also has made fruitcake, cheesecake and bread pudding shooters. They cost $3 each."
Until tomorrow, have a sweet day!