FreshJax Gourmet Handcrafted Spices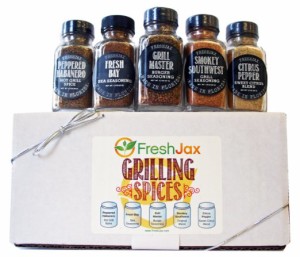 With a household of picky eaters, it's hard to break out of a rut with the same meals during the week. The spice set came nicely packaged with an unique, eye catching label. These would be perfect for a birthday, holiday or even a housewarming gift. They are full of flavor and each handcrafted by a small family business. I tried the Fresh Bay spice on potato wedges last night and it was a hit with both my husband and my daughters. A little goes a long way so I'm excited to try these for other meals and BBQs with family. The order was shipped quickly and arrived by the time given. Overall, a great find that satisfies everyone in the family.
More About The Spices:
– GRILL MASTER: Be the master of your backyard grill with Grill Master Seasoning. From veggies to proteins, this spice gives it all a distinct, well-rounded flavor.
– SMOKEY SOUTHWEST: Smokey Southwest has just the right amount of spice to heat things up from the grill to taco night.
– CITRUS PEPPER: A unique twist on classic lemon pepper seasoning, Citrus Pepper uses lemon, lime, and orange blended with a variety of peppercorns for a bright and refreshing flavor!
– FRESH BAY: Our fresh take on that famous sea seasoning, but with more flavor and half the sodium! Fantastic with potatoes (french fries, potato wedges) and grilled veggies.
– PEPPERED HABANERO: Spicy and peppery, this seasoning blend adds heat and bold cracked black pepper flavor to any dish!
This item was received at no cost in exchange for my honest, unbiased review. All opinions expressed here are my own and based on my own experience with this product.