AYL Silicone Cooking Gloves by Accessorise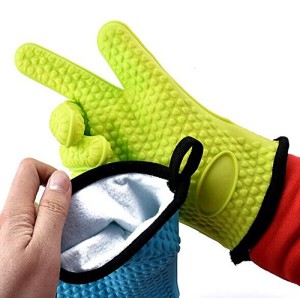 These AYL silicone cooking gloves by Accessorise worked out great for our camping trip this past weekend. They provide heat protection with dual layers (outer silicone glove and inner heat resistant cotton layer) that maximizes protection from open flames and hot surfaces. The gloves are multi-purposed as they can be used for kitchen ovens, outdoor grills, fireplaces as well as campfire cooking. We used them to move a hot cooking rack from an open flame campfire one night and then used them to move potatoes that were cooking on the fire. The non-slip grip made turning/moving the baked potatoes very easy. I also like the bright neon green color so they are easy to spot when we were outside around the campfire. The order was shipped quickly and the package arrived by the expected delivery date provided by Amazon. Overall, a great find that will stay in our camper for the summer months. I want to purchase another set for home use too!
More About the Product:

Disclosure: I received this product at a discount in exchange for my honest and unbiased review.