Cupcake Shaped Rice Krispies Treats
One of the cute ideas I made for my daughter's birthday party were cupcake shaped rice krispies treats dipped in chocolate.  What a great response to this quick and easy treat!  I had so many people ask me how I made them and I'm even making some more this weekend for our friend who is having a birthday party for her daughter.
A little twist on a classic treat!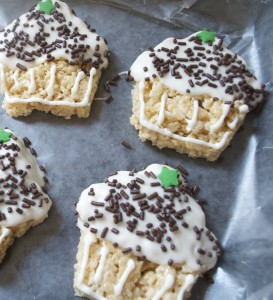 These treats are easy to make with very few ingredients.
What you'll need:
Cupcake Cookie Cutter (or any shaped cookie cutter to match your party theme)
1 1/2 cups White Chocolate Chips
10 oz. package Mini Marshmallows
1 tbsp. Vegetable Oil
3 tbsp. Butter or Margarine
6 cups Rice Krispies Cereal
Sprinkles (optional)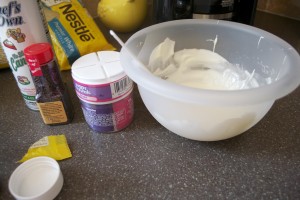 Directions:
In large saucepan, melt butter over low heat. Add marshmallows and stir until completely melted. Add rice krispies cereal. Stir until well coated.
Using buttered spatula (or wax paper), press mixture into 13×9 inch pan coated with cooking spray. Cool.
Cut cupcake shapes using the cookie cutter.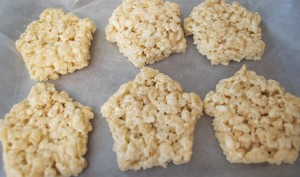 4. In small microwave-safe bowl, combine chocolate and oil. Microwave on high for 1 to 1-1/2 minutes, stirring every 30 seconds.
5. Coat the top of the treats with the melted chocolate using a spoon.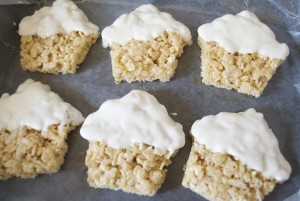 6. Decorate with sprinkles or other candy before the chocolate starts to set.  Any remaining chocolate can be put into a piping bag to outline the bottom of the cupcake to look like the cupcake liner.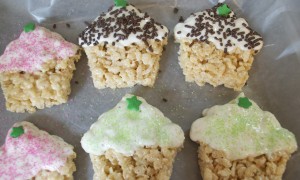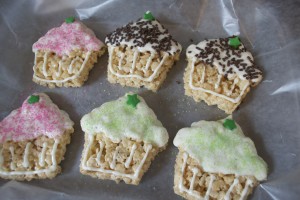 7. Place the treats on wax paper. Refrigerate until chocolate is set.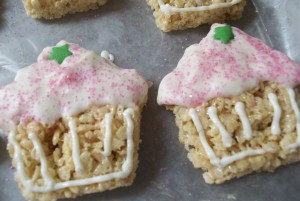 Once chocolate is set, remove from refrigerator and place on a decorative platter for your party! ENJOY 😉
This recipes makes 18 cupcake shaped treats.  If you use a smaller cookie cutter, than you can create more from this one batch recipe.
The possibilities are endless with this quick treat.  There are so many different cooke cutter shapes, you can use this recipe for so many occasions!  …birthday, baby shower, bridal shower, retirement, treats for the office or just because!
Until tomorrow, have a sweet day!