So today is Thread the Needle Day and to be honest, I wasn't too thrilled about this one.
Lately, I have been obsessing about my daughter's first birthday party that we'll have in the beginning of August.  I know first birthday parties are more for the parents, family, friends, and of course memories for her baby book.  I just want everything to be perfect and finally be able to use the products I have been creating over the past few months and create my own unique tablescape.
The theme is going to be monkeys with pink and green polka dot decor.  I have always love these designs and feature them as one of our edible cupcake toppers.  Of course, we'll have these as the edible cupcake toppers and printable toppers!  Also, we're going to have a giant smash cupcake with a cake topper!  It's funny because since Grace was a little, little baby we called her "monkey".
There is so much I want to do and be creative with…so far, we sent out the invitations and I think they look so cute!  I made these in Illustrator and used the monkey graphics from the edible topper designs.  Not too shabby 😉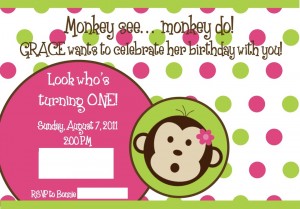 This is what her birthday onesie will look like except with her name on it. It should be arriving shortly! I cannot wait to see how it turned out! Perhaps a matching tutu to complete the outfit?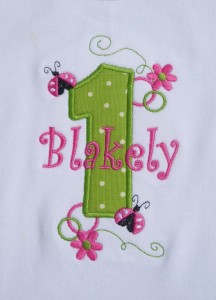 Here's some other ideas that I found that I would love to re-create myself and put a little twist on them to make them my own since it's exciting to me to try some DIY party decor.
There are so many cute ideas I have found to try but there is only so much time to create all these! Better start some tonight…
I'll post some photos of the birthday girl on her big day as well as the actual birthday party decor! Wish me luck!
Until tomorrow, have a sweet day!