Happy Labor Day!  
The last weekend of the summer before school starts and the weather gets a little chilly. I love the summer months – walking in the grass bare foot and enjoying time at the park with my little one but definitely looking forward to some cooler weather this September. We are lucky enough to have the windows open during the fall and enjoy watching the gorgeous leaves change color.
We have a busy weekend ahead of us by celebrating a special little boy turning one tomorrow as well as the fun of draft day for fantasy football on Sunday.  I'm working on a cute smash cake for the birthday boy today.  It's a barnyard/farm animal theme party and I cannot wait to celebrate with our family and friends. My cousin has worked so hard to put this together and I'll be posting photos from the party this weekend.
I thought about making some fun foods for a little BBQ on Monday – probably just for me, my husband and daughter though… Put some steaks on the grill and enjoy a bonfire later that night.
I googled "labor day food" and found some great ideas that are perfect for a bbq. Easy to make and easy to eat.
Melon Fruit Pops
Melon Fruit Pops from Bakers Royale require only fruit, lollipop sticks and cookie cutters. Cantaloupe and watermelon are cut with a round and flower shaped cookie cutter and then put on a stick.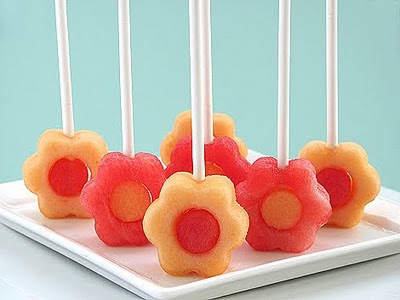 Naomi from Bakers Royals mentions a few tips when making these fruit pops.
Use metal cutters over plastic cutters. You need a thinner sharper edge that metal ones have over the plastic variations.
You can pre-cut the fruit into their chosen shapes, but insert the popsicle sticks prior to serving or they will become soggy.
Avoid overly ripe fruit, as they will get mangled when you try to cut them with a cookie cutter.
Fibrous fruits such as mangoes and pineapples do not work well as they require the sharp edge of a knife for cutting.
Strawberry Fruit Cups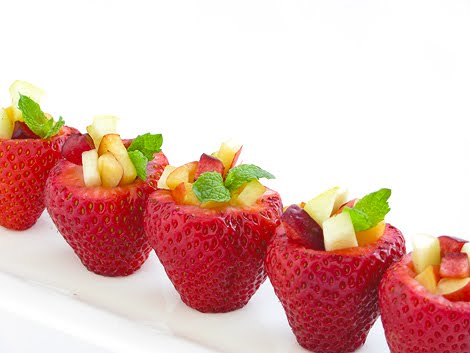 My daughter loves fruit and her favorite are strawberries. What a great presentation! Another great idea from 
Bakers Royale
– Strawberries filled with fruit salad! Cut the bottom of the strawberry to make it stand up and fill with other yummy fruits.
Quick and easy! These would be great at any party.
Use the largest strawberries you can find.
Your filling, your preference – chopped cherries, nectarines and a very interesting (and very good) fruit hybrid called a Mango Nectarine.
Hull your strawberries, then use a grapefruit knife and carve a hole in the center, then fill it with your preferred fruit.
Cut the bottoms flat to stand your Strawberry Fruit Cups upright.
These would be great for Strawberry Shortcake Cups. Instead of fruit, add small pieces of angel food cake and then add a little bit of whipped cream on top. Yum…
LadyBug Appetizers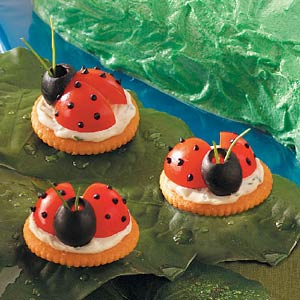 Thanks to
Taste of Home
for the Ladybug Appetizer recipe. These are perfect for so many parties that use ladybugs for a theme and decor…birthday, baby shower, bridal shower, Memorial Day, 4th of July, and Labor Day parties!
Here is the recipe to make these adorable ladybugs:
Maybe I should have a ladybug themed party just to use this great recipe!  If you do decide to pick ladybugs for your theme…wouldn't these
edible cookie and cupcake toppers
match perfectly?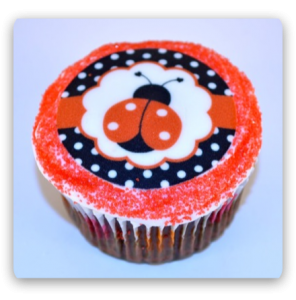 Add these edible designs to the top of your frosted cupcakes or even apply them to sugar cookies as party favors!  They are available at
Sweet'n Treats
and come in 12 different designs.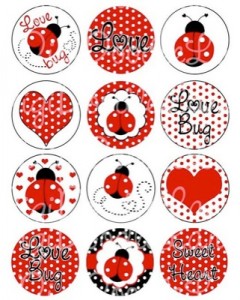 Have to get my day started…it's a busy one! But first, need to put the little monkey down for her nap!
Until tomorrow, have a sweet day!