July 21st is National Junk Food Day!
Also, today starts our Share the Love Giveaway that many people saw in our newsletter that was sent out last night. To get the details on how you can win a $25 gift certificate to our shop, join our mailing list at www.sweetntreats.com and you will receive our newsletter with the giveaway info. GOOD LUCK to everyone!
Back to Junk Food Day… 
To some people, every day is Junk Food Day. For the rest of us, National Junk Food Day is an opportunity to guiltlessly eat your favorite junk food.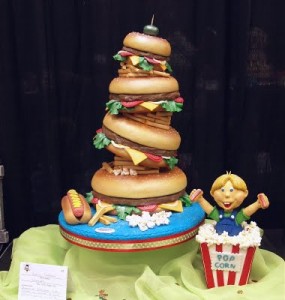 Dietitians will tell you that junk food is any food that contains little nutritional value. We also include foods that are high in salts, fats, and sugars. In other words, junk food is all that tasty stuff that the dietitians, and Mom, consider to be bad for us.
On Junk Food Day, you get to eat anything you want. Eat any amounts that you want, too. Tomorrow, however, it's back to a healthy diet.
I found a few interesting ways to use junk food, not only in cupcakes but also as gift ideas and even art! Take a look…
So how about a wedding cake made out of Hostess snacks. This couple definitely wins for the most creative wedding cake.  I want to be the person that gets a pink Sno Ball!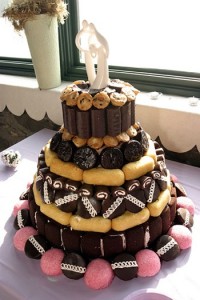 Need a creative gift idea? How about a Junk Food Gift Bouquet! This beats flowers any day! Easy DIY gift for your favorite snacker…or maybe a funny Father's Day or Birthday gift?
Instead of making a Diaper Cake for your next family or friend's baby shower…perhaps a Snickers Candy Cake? What pregnant woman would not want some chocolate! This is even a great idea for a kid's party as a centerpiece and then the kids can take the candy to put in their goodie favor bag! To make the goodie bags even more personalize, you can use our Printables where you can create custom favor thank you tags for all the children!
Ok, so onto the cupcakes! Wouldn't you love a Butterfinger or Almond Joy or even Peppermint Patty Inspired cupcake – yes, please! Check out all of these great recipes from Pardon My Crumbs to try out at your next party!
Would you like your portrait made of junk food? I guess Rosie O'Donnell did!
You won't find a paintbrush in Jason Mecier's studio. The mosaic portrait artist's representations of famous faces — including Rosie O'Donnell, Rachael Ray, and Jerry Seinfeld — are made out of candy, potato chips, cookies, and other edible goodies.