July 29th is Nation Lasagna Day!
First, I cannot believe July is almost over…where did the summer go? Anyways, Happy National Lasagna Day!
I have great memories of my grandmom making lasagna for Sunday dinners as well as for every holiday.  Sure, it's July. Its hot and humid. Cooking up a pan of lasagna will make the kitchen hotter but as it cooks, the smell will waft throughout the house. Your mouth will begin to water. When dinner time arrives, you will have a huge appetite for a huge piece of lasagna.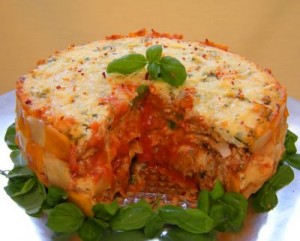 Lasagna is a favorite Italian dish. In between multiple layers of lasagna pasta are generous amounts of tomato sauce, cheeses, and sometimes hamburger and/or Italian sausage. Its the favorite Italian dish of millions of Americans.
I could eat pasta any time of the day but what about for dessert?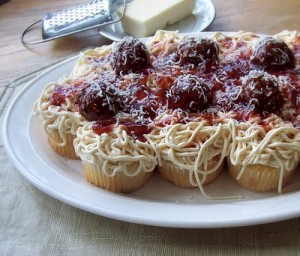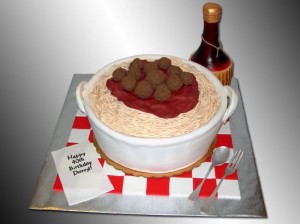 Thank you to VeggieTeens for these amazing "TV Dinner" cupcakes.  The peas and carrots on the cupcake are actually green runts and orange starburst cut into quarters! How creative!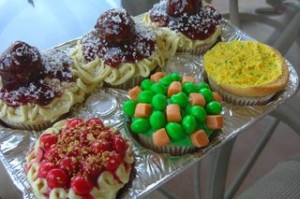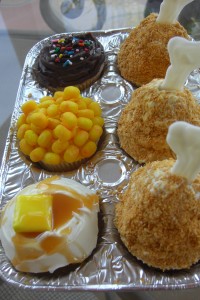 Maybe chicken with mash potatoes and corn… the butter is a lemon starburst and the corn kernels are the bottom portion of candy corn! I Love These Cupcakes! Take a look at the link for all the little tips on how to make each one of these cupcakes.
How Large Is The Worlds Biggest Lasagna?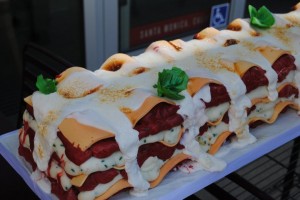 I'm not sure of the record for real lasagna but for a cake in the shape of lasagna, it's 28 feet! Sweet E's Bakery submitted their cake to the Guinness Book of World Records and hope to be a part of history in the very near future! The actual noodles and basil leaves were made out of fondant while the marinara sauce was made from red velvet cake, red frosting and red chocolate chunks. The melted cheese on top was made of fondant and chocolate which was airbrushed to look yellow. After 72 hours, the cake was complete weighing in at 150 pounds.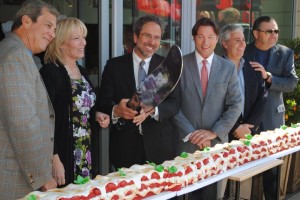 Until tomorrow, have a sweet night!