August 1st is Raspberry Cream Pie Day!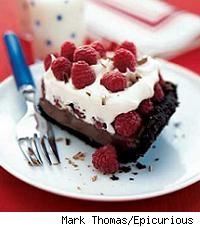 Raspberries are one of the gems of summer. Sweet and tasty, it is loved by millions of people (and birds, too!) With the arrival of ripe berries, it is time to make and enjoy some of your favorite dessert treats. High on the list for raspberry lovers, is raspberry cream pie.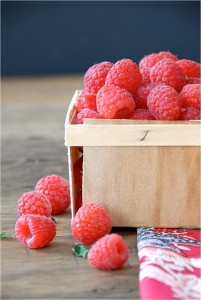 I have never tasted raspberry cream pie but… you can still make this a super raspberry day. Go out and pick your own berries. Then, make a raspberry cream pie. Better still, make one for you, and another to give away to a family member, a neighbor, or a friend. Then, dig in and eat a piece of pie….Yummmm! Here is a great recipe from Bon Appetit for Black Bottom Raspberry Cream Pie (photo above)– The secret to the crust is a layer of chocolate pudding—plus chocolate cookies.
http://www.bonappetit.com/recipes/2004/07/black_bottom_raspberry_cream_pie#ixzz1ToDtp8F0
I love finding creative alternatives to the holiday. These made me laugh when I googled "funny raspberry pictures"…might make a few tonight to make my daughter laugh!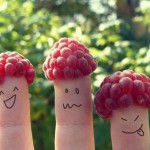 I saw this cute kid's apron that reminds me of a raspberry cream pie because of the colors. Lush violets and soft pink made this apron so cute!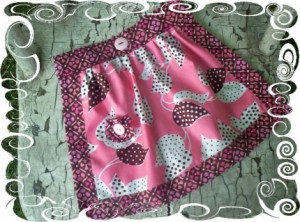 How About Raspberry Cream Cupcakes In A Jar!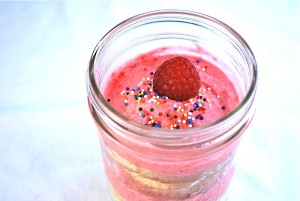 Thanks to babble.com for a great recipe to make your very own raspberry cupcakes in a jar.  "Looking for a dessert that looks nice when you set it out on the table and has a little bit of zing to it? Look no further than these yellow cupcakes with raspberry frosting in a jar. The yellow cake is moist, sweet, and buttery and the frosting has a wonderful tanginess. The jar, apart from making them last a little longer and easier to transport, also provides a nice presentation.
And the really nice thing is that making these cupcakes from scratch isn't significantly harder than using a mix, but yields much better results. Everybody is going to love these cupcakes. Including you. And isn't that the most important thing since you're going to do all the work to make them?"
Happy Raspberry Cream Pie Day! Until tomorrow, have a sweet day 😉