Disclosure: I got this product as part of an advertorial.

I am loving Ageless Derma! This is my third product I was able to test and review for Ageless Derma. This time I was lucky to receive Ageless Derma Camoufleur Concealer where is this part of their extensive line of anti-aging mineral makeup that prevents wrinkles with Vitamin A, E, and green tea.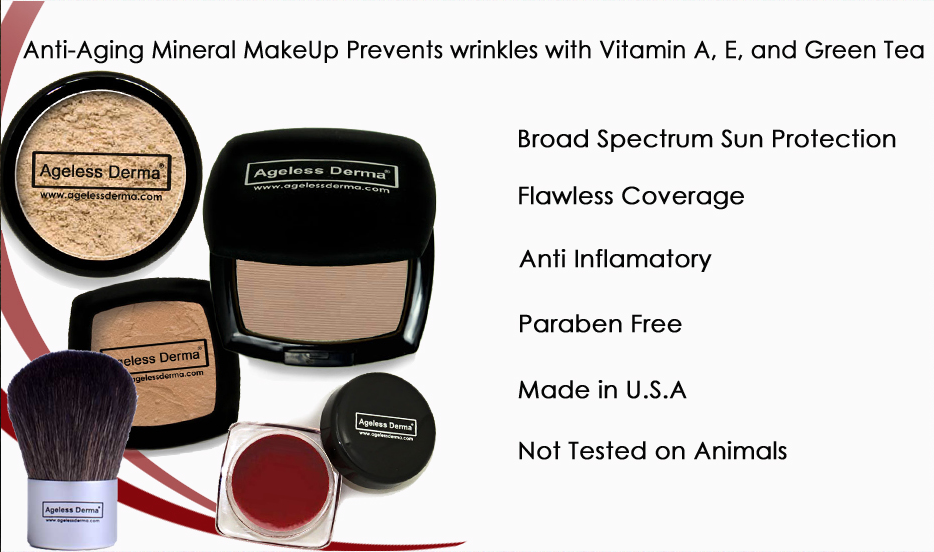 ABOUT AGELESS DERMA CAMOUFLEUR CONCEALER: It is ideal for covering up imperfections of the skin such as scars or brown spots or port wine stains that distract from the skin's beauty. This versatile mineral make up concealer provides a natural look that is long lasting and will also cover those dark circles beneath the eyes, so it is an anti-aging makeup that will conceal those visible signs of aging.

I chose the Ageless Derma Camoufleur Concealer in the Ivory skin tone and it matched perfectly. This past week I had a few breakouts on my face. I tried the concealer under my eyes for my dark circles as well as for a few blemishes I had on my chin. The concealer is a little heavier than what I am used to for an everyday under eye concealer but it worked perfectly for my blemish on my chin. After using the concealer, a little goes a long way so you do not need much to cover any scars, redness or other skin imperfections. Ageless Derma does recommend using the camouflage brush to provide longer lasting coverage so you will utilize less concealer. I took before and after photos of my chin with my blemish. As you can see, it worked great by covering the redness well all with a natural look. I notice a lot of concealers can look "caked on" but this was not the case with Ageless Derma.
FROM THE COMPANY: With a natural look and a creamy formula that will revitalize your skin with coverage that is flawless and healthy for your skin, you will love Ageless Derma Camoufleur Concealer. It is a 100% mineral make-up that comes in beautiful shades to cover any skin's imperfections, plus it is free of parabens.
As an anti aging cream makeup, this concealer contains Vitamins A and E  and green tea extracts to revitalize and heal the skin, protecting it from further damage and healing the damage already done.  The product is a creamy anti aging skin cream concealer that comes in gorgeous shades suitable for any complexion.
The Ageless Derma Camoufleur Concealer also contains apple extract, cetyl esters and horseradish.   The apple extract helps to bright those dark spots on the face as it also fights acne and adds antioxidant protection to the skin for anti aging skin cream benefits.

Thank you again to Ageless Derma for another great anti-aging mineral makeup. Show them some love by visiting their WEBSITE to find out more information about their mineral make-up and skin care products. Also, save 20% storewide by using code AGELESS during checkout. PLUS they also offer FREE SHIPPING on all domestic orders. What a great deal!

Until next time, have a SWEET day! Bonnie
I received one or more of the products mentioned above for free using Tomoson.com. Regardless, I only recommend products or services I use personally and believe will be good for my readers.