Disclosure: I got this product as part of an advertorial.

This past week I have been testing a great new addition to my skin-care products by Amara Organics called Vitamin C Serum where it replenishes your skin's vitamin C levels to prevent and reverse skin aging. You can find their Vitamin C Serum at their Amazon store. Click Here to Purchase.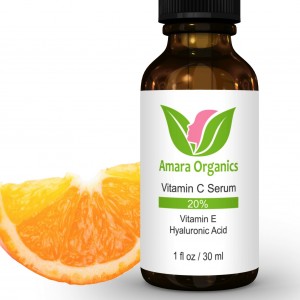 Enjoy radiant, youthful skin again with Amara Organic's potent blend of ingredients, professionally formulated using the highest quality Vitamin C, E, and Hyaluronic Acid available.
Forget the facelift, lasers, and chemical peels! Vitamin C has been shown to be just as effective at reversing the effects of time and environmental damage to the skin.
Notice brighter, smoother skin after your first use of our Vitamin C Serum. As the serum penetrates deep into your skin, you can feel confident knowing you are reversing skin aging and preventing further damage at the same time.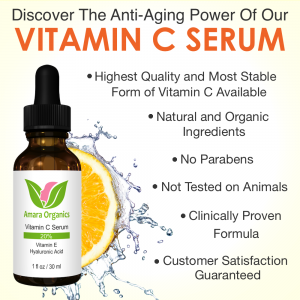 ABOUT VITAMIN C SERUM:
Replenish your skin's vitamin C levels to prevent and reverse skin aging
Stimulate collagen production to reduce fine lines and wrinkles
Powerful antioxidants reduce the number of sun-damaged cells and neutralize free radicals, reversing skin damage and discoloration
Refines skin texture, making your skin appear more radiant and youthful
Sun-protecting properties defend your skin against environmental damage
ABOUT THE COMPANY AMARA ORGANICS: Amara Organics is committed to using the highest quality natural and organic ingredients in their skin care products. The cutting-edge formulations will deliver results. Each of the products goes through a careful selection process and extensive clinical testing before it ever reaches the public.
Here is a list of ingredients that are NOT found in our products:
No Petrochemicals
No Parabens
No Artificial colors
No Sodium Lauryl/Laureth Sulfates
No DMDM Hydantoin/Diazonial Urea
No EDTA
No TEA, DEA, or MEA
No Phthalates
No Methylisothiazolineone
MY REVIEW: I had the opportunity this past week to sample Amara Organics Vitamin C Serum and noticed a big difference with how my skin looked and felt. Each morning and night, I applied a small amount of the serum to my clean face and neck. I instantly felt my skin feel smoother and you could see the natural glow start to come back since it's been a harsh, cold winter here in NJ. The serum is lightweight and non-greasy so it's great to apply in the morning before moisturizer and make-up. This is an amazing addition to my skin-care products and happy to be able to use their product.
Until next time, have a SWEET day!
I received one or more of the products mentioned above for free using Tomoson.com. Regardless, I only recommend products or services I use personally and believe will be good for my readers.