Disclosure: I got this product as part of an advertorial.
I LOVE to bake and make yummy goodies! I guess you could have figured that one out by my blog and business… but I'm excited to review Castle Rock Essential Products' Simply Essentials silicone baking mat and commercial baking sheet. You don't understand how nice it is to get a NEW cookie baking sheet – it's pretty bad when I put them on my Christmas shopping list for my family! What makes this review even better is the fact that I get to try out a silicone baking mat, too. I have used so much parchment paper the past few years and heard only good things about these silicone baking mats. For this review, I was given Simply Essentials Baking Mat and Baking Pan set.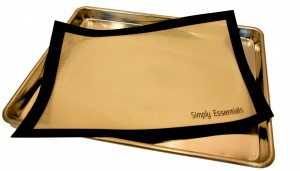 DETAILS ABOUT THE PRODUCTS: Non stick baking mat, cookie sheet size (16 5/8 x 11 3/4 inches x .73 mm thick) with commercial grade baking pan. Silicone baking mat, similar to a silpat baking mat. Pro mat silicone baking mat for baking, cooking, roasting, etc.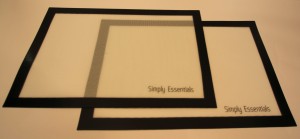 Bake on it, freeze it, refrigerate on it and roast on it! Quit throwing away those expensive metal baking pans! Keeps your baking pan in good condition. You Do Not Need Oil, Butter, Cooking Spray or Parchment Paper to Bake with These Mats. One Year Guarantee.
Exceptional set baking mat and commercial grade baking pan by Simply Essentials Fits half size baking sheets 18 x 13 inches, BPA Safe, Easy to store, You can reuse 1000's of times. Eliminates the need for cooking sprays, oils, butter or parchment paper, great for dieting saves calories.
Made of glass weave and food grade silicone baking mat. Easy to clean, just wipe with soap and hot water.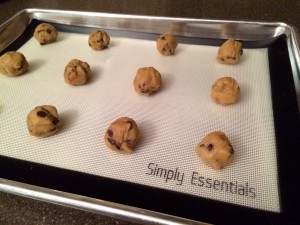 So I tested the commercial grade baking pan and baking mat with my three year old daughter by making the go-to cookie, chocolate chip cookies! Yum! We made the dough and it was very easy to use the products. Simply put the silicone mat on top of the baking sheet and you're ready to go! We added our drops of cookie dough and watched them turn into delicious cookies. The cookies came out amazing – evenly cooked and very easy to remove from the baking sheet. Plus easy cleanup! Also, as an added bonus, I received a recipe guide with 100 Calorie Snack Recipes to try next time.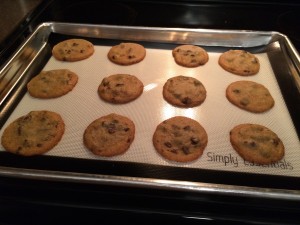 GIVEAWAY ALERT: So… our friends at Castle Rock Essential Products is very nice to offer my readers a chance to win their very own baking pan and silicone mat set. You need to enter this giveaway because everyone needs this baking set! Enter below for your chance to win! Good Luck!
WANT ONE NOW? Ok, no problem. You can order through the link below at their Amazon store. You're in luck since they are on sale plus FREE Shipping for orders over $35. CLICK TO BUY YOUR SET
Until next time, have a SWEET day! Bonnie
I received one or more of the products mentioned above for free using Tomoson.com. Regardless, I only recommend products or services I use personally and believe will be good for my readers.