My favorite part of the day… breakfast with my little one. Since she is now in pre-school three days a week, I try to make breakfast special on the days that she is home with me. It can be special shaped pancakes or homemade waffles but her favorite is cereal. I recently had the opportunity to test the new Post Sesame Street C is for Cereal with my daughter and she LOVED it!
Kids are very honest and luckily my little girl is not a picky eater but she does love breakfast time as much as I do. I was excited for us to try Post Sesame Street cereal since it seems like it has everything going for it. My BzzKit arrived fast and included 2 full-size boxes of Sesame Street Cereal – Elmo Apple and Cookie Monster banana flavors plus pass along coupons for $1 off any one box of Sesame Street cereal.  Receiving 2 full-size boxes was very impressive and I could quickly test the product since it was shipped directly to me.
When it comes to cereal, I stay away from the sugary and artificial flavored cereals for both myself and my daughter.  Sesame Street cereal provides toddlers a delicious and nutritious cereal for breakfast or snack time.
16g of whole grain per serving that provides 2/3 of your toddler's daily whole grains
1g of sugar per serving
No artificial flavors
Fortified with nutrients that help support healthy brain development in children
My daughter tried the cereal today after pre-school as a snack since she was automatically drawn to it sitting on the kitchen counter due to the Elmo and Cookie Monster box designs. She wanted to first try the A is for Apple Elmo cereal. I poured her a big bowl to snack on and she took it over to sit on the couch. Every time she tried one, she said "YUM" and I knew this would be a cereal to purchase over and over in the future.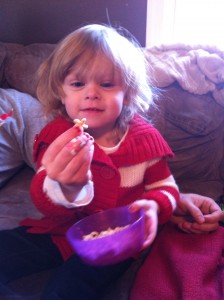 I took the other box (Cookie Monster banana flavored) to her pre-school this morning so there is extra for her and her classmates to try.. plus the coupons for a $1 off to share with her teachers and other mommies and daddies. Overall, she asked for another bowl when she was done and I was happy that she loved this cereal so much. Kids are very honest with what they like and don't like so it was nice to know she will continue to eat a healthy cereal. This cereal would have been perfect for her even when she was an infant instead of paying for expensive, small containers of cereals made for babies.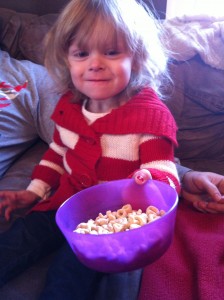 A BIG thanks for BZZ and Post Sesame Street Cereals for my making little girl happy and also making this mommy happy 😉
Until next time, have a sweet day!