Disclosure: I got this product as part of an advertorial.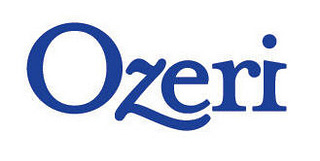 I love glassware. It's a weird thing to say but I am always looking for a cool coffee mug for myself or a fun beer glass for my hubby. I had the opportunity to test and review the 16 oz. Serafino Double Wall Insulated Drinking Glasses from the Ozeri Artisan Series of award-winning handcrafted drink ware.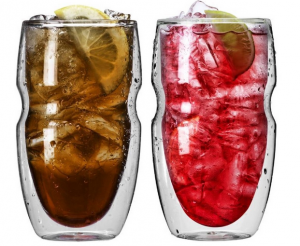 ABOUT SERAFINO GLASSES:
These glasses are made of durable, heat resistant, mouth-blown borosilicate glass of the finest quality. Borosilicate glass is stronger than common glass, shatter-resistant, and with the Serafino's double-walled design, it offers the ultimate insulation to maintain drinks at their ideal temperature. The Serafino's unique double wall design suspends drinks within an inner wall for an attention-grabbing optical effect, while the wraparound contour provides a natural aesthetic grip. Each glass is made to keep your hands cool even with your hottest drinks, and free of condensation with your chilled beverages. The patent-pending Serafino is great for coffee, cappuccinos, hot or iced teas, cocktails, frozen beverages and much more. Whether it is an occasion for a glass of wine, coffee, or some other beverage, borosilicate glass is completely resistant to acids, and your Ozeri glasses will never lose their original sheen. Each set contains 2 handmade glasses designed for lifetime use. The Serafino glasses are completely microwave and freezer safe, and ship in an elegantly printed and carefully packaged box with a 1 year warranty.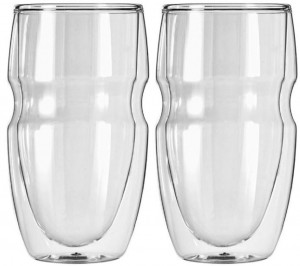 MY REVIEW:
If you didn't already realize it but I love different looking glasses. Yes, I have drink ware that matches for those special occasions but my every day drinking glasses definitely do not match. These will be part of my collection of fun glasses to use for both cold and hot beverages.
The set comes with 2 insulated drinking glasses and I tried the first glass last night with iced tea. I love ice in everything – it's to the point that my husband makes fun of me because I always ask for extra ice if he's getting me a drink. The iced tea stayed super cold while my hands did not. I hate having wet hands from condensation from a cup. Especially when we are outside having dinner during the summer months and it makes a mess and leaves glass rings on the table. First cup: perfect!
Ok, second glass. I tried this one today with my early morning coffee. It worked great with the large size of my coffee selection and kept my coffee warm inside the cup. The only downfall to the size of the cup was that it was a little difficult to place under our Keurig machine but it is something you can work around.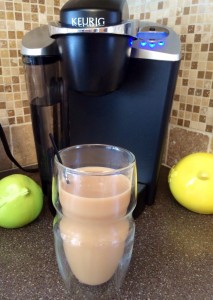 Overall, I would highly recommend this set of insulated drinking glasses to my family and friends. I cannot wait to use them during the summertime for outdoor meals since they are shatter-resistant.
I received one or more of the products mentioned above for free using Tomoson.com. Regardless, I only recommend products or services I use personally and believe will be good for my readers.