Disclosure: I got this product as part of an advertorial.

Table Manners Cards by Golly gee-pers! is a great way to provide simple meal time games to encourage good table manners. The game is easy to play and it has different versions for younger players to school aged players to laugh and learn at the same time.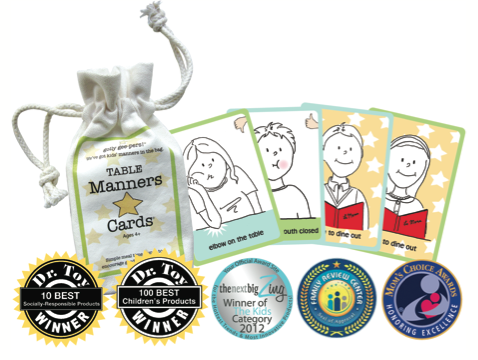 No more nagging. No more prodding. It teaches children to take on the job of learning and remembering good table manners. It also addresses table manners in the moment they occur, motivates the entire family through friendly competition and reward, as well as provides engaging fun with purpose.

The Table Manner Cards Game includes durable, laminated cards with rounded corners that come cello wrapped inside of a 100% non-bleached cotton, washable drawstring bag. The cards are positive such as "chewing with mouth closed" to negative ones like "burping on purpose". I tried the revised directions that are geared towards young players since my daughter will be 4 years old in the summer. The game is easy to play and my daughter and I tried this during lunch yesterday. First, you choose a Card Keeper (me). Then I separated the cards in the thumbs-up and thumb-downs cards into 2 separate piles. I chose only a few cards for each pile that would relate to my daughter eating habits and skill level. To start the game and introduce it to my daughter, I tried something first, such as "chewing with my mouth closed" so she would understand that if she did something right, she would earn a card for a reward at the end of the meal. We went back and forth with the game and my daughter enjoyed it. For this first game, I let my daughter win. To win, the player with the most thumbs-up cards and the least thumbs-down cards at the end of the meal wins a Ready-To-Dine-Out award card.

It was a great experience with my daughter and I want to try this at dinner with everyone so my daughter becomes more involved in wanting to have good table manners. The card game will come in handy in the years to come since I know she is just learning what is right and wrong at the dinner table. The game is recommended for ages 4 and up so she has plenty of time to play with the cards.
"Everyone really wins because they practiced good table manners!"
See the video below that shows the card game in action at a dinner table as well as the story behind Table Manners Cards by Golly gee-pers!
I received one or more of the products mentioned above for free using Tomoson.com. Regardless, I only recommend products or services I use personally and believe will be good for my readers.