The other day I went to Target to pick up a few things with my mom and daughter…and found this crazy hat in the dollar section display area. I can never pass this section without looking and saw this…THANKSGIVING TURKEY HAT!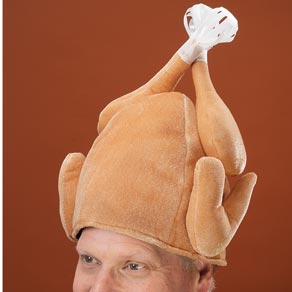 (Image found online…not any of my family members. I think they would hate me if I posted their picture on here!)
How awesome is this! I LOVE it!  We always have family dinners here at my house but usually Thanksgiving is one of the very few formal dinners with both families and I thought this would be amazing to make everyone wear for photos that day! My mom tried it on in the store and looked so silly…then my husband saw the turkey hat on the dining room table and tried it on. He looked even better with it on! Imagine the little kids wearing the turkey hat!
So, I feel pretty confident with my $2.50 purchase to take some great photo memories this November. I even thought about wearing it for Halloween as my costume when we take our daughter out this year for trick or treating! Two uses in one…
As long as I don't forget where I put it for the next 2 months, we should be all set. This made me smile and wanted to share with you! Tomorrow we can talk about cupcakes but today is all about crazy turkey hats!
Until tomorrow, have a sweet day!