It's Friday night and I am working at some of my daughter's first birthday decorations. I will definitely post everything once we have it set up for the party but wanted to show some of the progress from the past couple of days 😉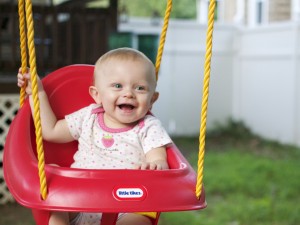 Her party is going to be Sunday with a pink and lime green mod monkey theme. Invitations were sent with the matching theme and now I'm working on the table decorations. Some will be outside and others will be on the table inside with the food.
Happy Birthday Pennant Banner
I made a Happy Birthday pennant banner to go across the living room mantle in the matching pink, green and white colors. The font used matches her invitations as well as the other decorations. Very easy to make…made template in Illustrator, cut out each triangle and then attached them to brown ribbon.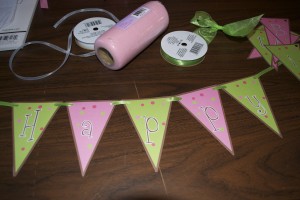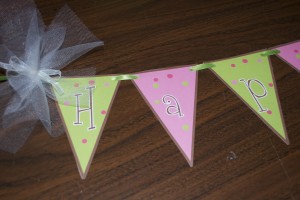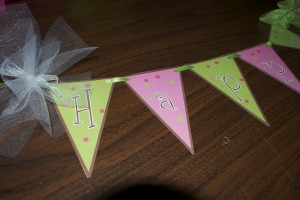 Table Centerpieces
For the centerpieces on the tables inside, I created very cute paper flower pom-poms! The center is a lime green paper flower made out of tissue paper attached to a 10″ wooden skewer that was wrapped with ribbon. I hot glued a piece of styrofoam to the inside of the box to insert the pom-pom and then covered it with tissue paper. I then added matching ribbon and tulle to make it a little fuller.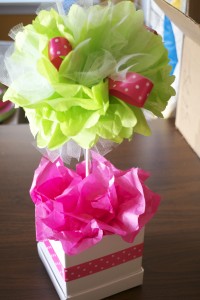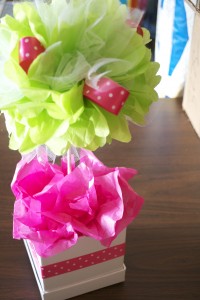 High Chair Decorations
Also, I made a high chair decorations since she will be photographed in it for a good amount pictures… I cannot wait to get the picture of her and her giant cupcake smash cake 😉 Very simple to make yourself…again I made the design in Illustrator, printed from my home printer on white card stock and then attached each one together with brown ribbon. Added a little bit of tulle and it's ready to be attached to the high chair front.  Her highchair is a neutral one so it will work great to coordinate the theme.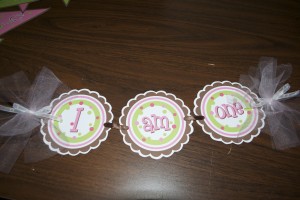 Outside Table Centerpieces
For the centerpieces for the tables outside, I made some cute centerpieces just with the small square boxes filled with tissue paper, curling ribbon and then colorful plastic drink stirrer sticks.  I bought them last year for a party and had some left over.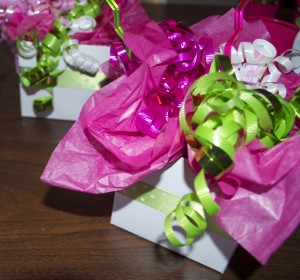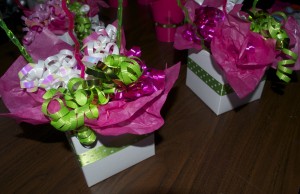 The photos are not the best but I wanted to show my progress over the last few days.  In upcoming blog posts, I'll show you how to make a cupcake stand out of soup cans and cake boards!
Better get going…so much more to do to get ready but mostly it's food. Cupcakes with edible toppers, giant cupcake smash cake with matching cake topper plus lots of other goodies!
Until tomorrow, have a sweet day!