What a weekend! We celebrated our daughter's first birthday on Sunday and I have finally had the chance to upload some of the photos from her special day!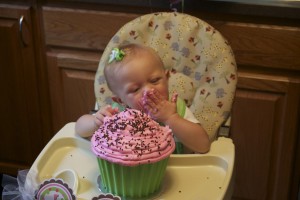 The party theme and decor colors were pink and lime green polka dots with a mod monkey design. Everything came together just as I imagined 😉
Welcome Signs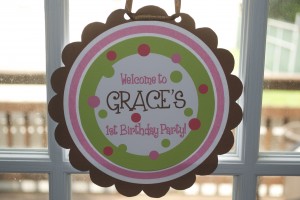 My biggest worry for the day was the chance of rain since we were planning on having it outside. Luckily, it didn't rain but we ended up with a hot and humid afternoon.
Table Centerpieces
Outside Table Centerpieces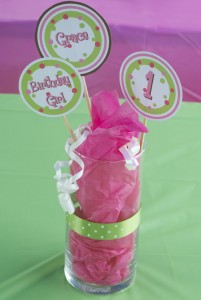 Box of Ribbons Centerpiece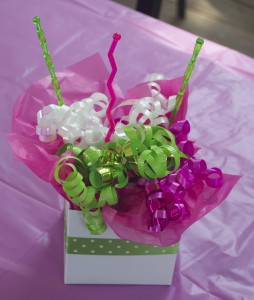 Dessert Table Decorations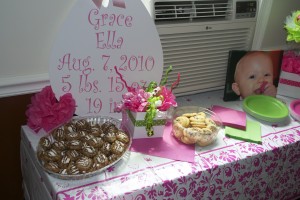 Pom Pom Flowers Centerpiece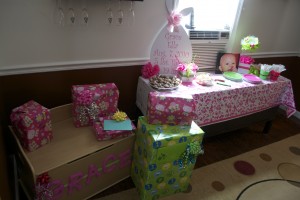 Pom Pom Flowers Centerpiece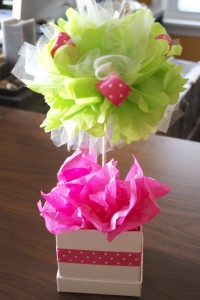 Happy Birthday Pennant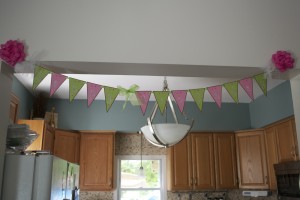 A Happy Birthday pennant in matching decor colors hung in the dining room with all of the food and desserts.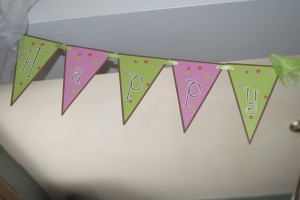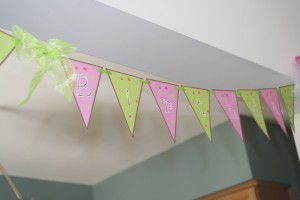 First Year Photo Banner
Each month with a baby picture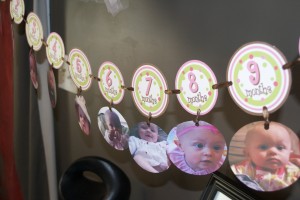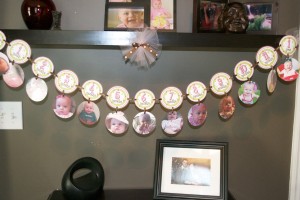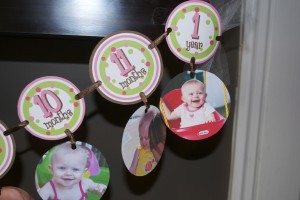 I wanted to display Grace each month and see how she has changed over one year. I first thought about putting her monthly photo in small frames and putting them on a side table but came up with this idea that saved a lot of space.  Each photo was cut into a circle and the month numbers used the same design from the welcome sign. I connected each one with matching brown ribbon and hung it from one of our mantle shelves in the living room. I received so many compliments on it that day!
The Mod Monkey Edible Cupcake Toppers are NOW available on our website to purchase!  Choose from PINK, GREEN or BLUE.  The edible toppers are sold by the dozen and are $9/dozen.
CLICK HERE TO SHOP FOR EDIBLE TOPPERS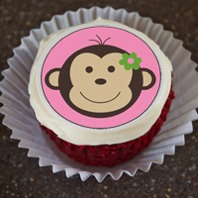 Cupcakes on Stand with Giant Cupcake Smash Cake
Giant Cupcake on the Cupcake Stand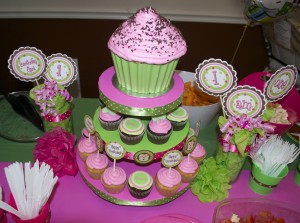 For the main centerpiece on the table I made a 3 tier cupcake stand with Grace's giant cupcake smash cake on top and standard cupcakes for the guests on the lower tiers. This cupcake stand was created with soup cans, cake rounds, wrapping paper, and ribbon! Saved a lot of money and barely took anytime to put together. I can use the stand again or I can change the color of the each tier by wrapping it in different paper! The cupcakes featured an array of toppers: edible cupcake toppers, printables and fondant decorations.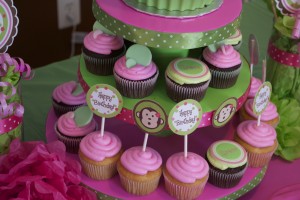 Edible Cupcake Toppers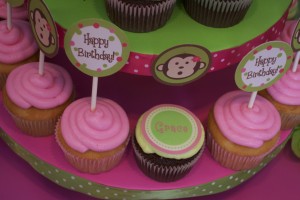 3 Tier Cupcake Stand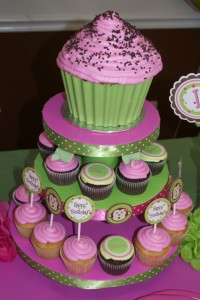 Giant Cupcake Smash Cake
As for the giant cupcake smash cake, Grace LOVED it! I used the giant cupcake pan that bakes the cake in 2 separate pieces and then you put them together with frosting. I originally was going to cover the bottom with fondant but to be honest…ran out of time so I had to think of something quick and easier to make the base of the cupcake look clean. So I took some white chocolate chips, melted them in the microwave and added green candy dye. I took the cake pan to use as a mold and coated the cupcake bottom section with 2 layers of chocolate …let it harden in the refrigerator for 30 minutes and popped it out. I had to shave down the actual cake bottom to fit into the chocolate mold. Then I added the pink frosting with some chocolate sprinkles!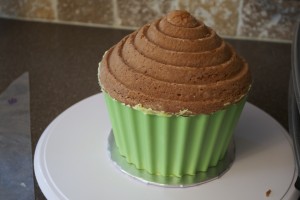 …and the finished giant cupcake smash cake!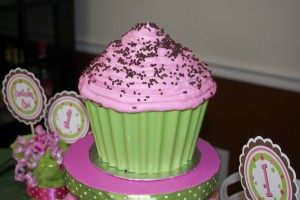 Birthday Girl with Her Cake!
Grace was not shy at all to dig into her cake 😉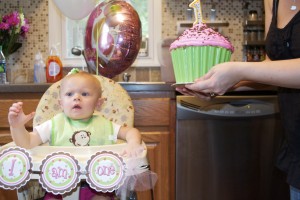 Favorite Photo!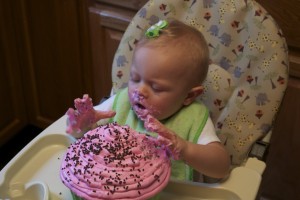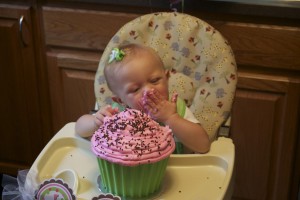 High Chair Decorations!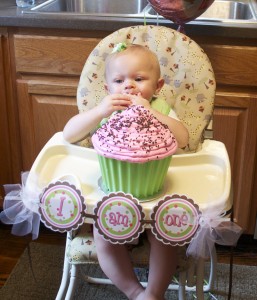 What a great weekend! A lot of work but definitely worth it.
Until tomorrow, have a sweet night!