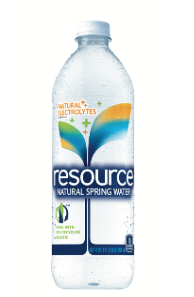 I received my newest #ModaVoxBox and it was pretty cool to see a different kind of bottled water to review. There were lots of goodies including a new moisture hair mask, make-up, chocolate drinks, and other nice surprises.
Honestly, I have never heard of resource® Natural Spring Water until this review but it has a crisp, refreshing taste with naturally occurring electrolytes. It is 100% natural spring water that tastes great. Another plus is the bottle is made with 50% recycled plastic and is 100% recyclable.
Find resource® Natural Spring Water at a store near you! Enjoy…
NOTE: I received these products complimentary from Influenster for testing purposes.